Happy What I Ate Wednesday!
So I began my day with breakfast tacos which should have satisfied my Mexican food craving.  Strangely, it just made me want more Mexican food.  So some Chipotle action was needed for lunch time.  And because I just can't get enough Mexican inspired foods, I had fish tacos for dinner.
I could eat Mexican-esque food for the rest of my life.
Seriously.
As long as I'm also allowed oatmeal…
and smoothies…
and single serving chocolate cakes.
Between my Mexican food cravings, I keep telling myself that I'm going to reintroduce gluten into my diet.  I want to see if my foggy head comes back with the gluten.  But so far, I haven't worked up the courage(?) to eat a piece of bread.  I spent 6 months feeling like crap and I don't want to feel like that again, even if it is for just one day.  During the school year, I was always too afraid to experiment with gluten because studying for a biochem test when you feel drunk (aka foggy head) doesn't really work too well…for me anyways:)
Sometimes I have dream nightmares where I eat gluten.  Eating gluten has become a real fear for me.  Who knew a protein could be so scary.  After 6 months of avoiding gluten, it's hard to convince myself that it's okay to eat it again.  I'm scared of it.  I'm scared of how I think it makes me feel.  But a lot of things were going on in my life when I was experiencing this 'foggy head.'  So I think a lot of factors could have contributed to how I was feeling and that is why I want to give gluten another chance.
So summer is the perfect time to try it out.
Maybe next week.
We'll see…french baguette here I come.
Anyways, on to the happy stuff…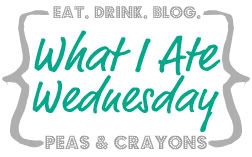 So after my Colorado trip, I've been loving breakfast tacos in the morning.  And just loving corn tortillas in general.  I can't get enough.
Breakfast: 
Breakfast Tacos on Corn Tortillas
Topped with Avocado & Hot Sauce
Bananas, Oranges, and Grapes
Recipe: 2 eggs + 1 egg white scrambled.  Divide between 2 corn tortillas.  Top with avocado slices, hot salsa, and cilantro.
Lunch:
Chipotle Burrito Bowl
Chicken
Sauteed Peppers & Onions
Corn Salsa
Pico de Gallo
Hot Salsa
Lettuce
Recipe: The guy preparing my bowl was super generous with his scooping.  And then when he topped the bowl with lettuce, he took 2 massive handfuls of lettuce and had to press down on the entire bowl so everything would fit.  I don't know why he was feeling so enthusiastic/lacking all sense of portion control but he made my day.  It was a huge bowl.  I ate every bite.
Dinner:
Tilapia Fish Tacos
Topped with:
Red Cabbage-Lime Slaw
Mango Corn Salsa
Cumin Black Beans
Avocado & Cilantro
Recipe: Fish Taco recipe will be up on Monday!  I loved the multiple topping options!  Fish tacos are probably my favorite meal when they are fresh and light.  No breading on the fish or heavy creams/sauces.   I love grilled/baked fish with fresh, bright, and flavorful toppings.  And a lot of lime.  These were my favorite fish tacos yet.
Dessert:
Single Serving Grain-Free Chocolate Cake
Topped with:
Almond Butter
Honey
Recipe: I used this recipe and added 1 1/2 tsp brown sugar.  I topped the cake with 1 tsp-ish honey and a baby bit of almond butter.  I loved it!
Have a great rest of the week!  This weekend I'm heading to Delaware for the first time!  I tend to travel more to the West Coast and can't wait to experience some of the East! I couldn't be more excited:)
I can't wait to get some inspiration from everyone's WIAW post!