Jul 09
What I Ate This Week
posted by
Kylie Mitchell
in
Cookies
\\
Hi all! Fourth of July weekend was jam packed. A holiday weekend means a bunch of delicious food. We got to spend time with both our parents and had a wedding Saturday night. I felt like we were driving all over Texas…cause we were.
Monday: Out to Mexican Food with my sister and her boyfriend. They just got back from a 2 week trip to Italy so it was great to see them…and you can't go to Italy for two weeks without missing good ol' tex-mex.
Tuesday: Big bowl of salad topped with salmon, roasted chickpeas, roasted butternut squash and feta cheese.

Wednesday: Swiss Quiche Muffins with Cornbread Bottoms + Roasted Kale Caesar Salad
Thursday: We left Houston after work and got to Andrew's parent's house in Chappell Hill (TX…not North Carolina) in time for King Ranch Chicken, stuffed jalapenos and avocado-tomato salad.

Friday: Brisket + cornbread + side of beans + tomaotes-avocado-cilantro

Saturday: Wedding! We drove to Lufkin to see one of my good college friends get married! Menu included roasted turkey, cheesy (really cheesy) ranch potatoes, steamed veggies, fluffy bread and (of course…) cake! I really love eating fondant…it that weird?
Sunday: Whole Wheat Mac n' Cheese with shredded rotisserie chicken, arugula, spinach, green peas, asiago, parmesan, swiss and greek yogurt. I based the recipe loosely off this recipe.
Nachos.
a random delicious plate of food at Andrew's parent's house. Salmon topped with asian slaw + potato chips + sweet potato fries + avocado-tomato salad. Definitely went back for more sweet potato fries.
salad! spinach, cabbage, arugula, roasted butternut squash, feta, kalamata olives, tomatoes and roasted chickpeas.
homemade burrito bowl of sorts. Mexican Rice topped with pinto beans, asiago-parmesan cheese blend, arugula and plain greek yogurt.
salad with the exact same ingredients as above.
chocolate protein shake + crumbled peanut butter cookie.
cold chia seed banana oatmeal.
another chocolate banana protein shake topped with kashi cereal.
more cold chia seed oatmeal.
breakfast tacos + so.many.blueberries. + a piece of pound cake (it was the Sunday of a long weekend…always hard saying goodbye to the weekend so I guess I was going all out).
Peanut butter chocolate mug cake.
insanely good mini cherry cheesecakes via Andrew's mom.
so.many.cherries.
and this recipe…which I can't wait to tell you about on Friday!
Hilly 3.5 mile run in the country…and playing with Louie, my parent's new beagle pup.
We took him swimming. The cuteness was way too much to handle.
I've decided to link up to Jenn's What I Ate Wednesday series this week. I just love being able to see what everyone else is eating. Have a great rest of your week!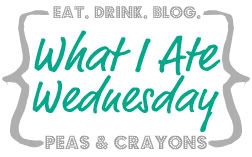 You May Also Like...