Jul 30
What I Ate This Week.
posted by
Kylie Mitchell
in
Cookies
\\
So meal planning went to the wayside this week. Andrew is out of town for work so I didn't meal plan at all, which definitely showed in my dinner meals with a lack of vegetables. I usually really enjoy taking the time on the weekends to sit down for an hour and search for recipe inspiration and plan out our weeknight dinners. But it's not quite as fun when you're just making the meal for yourself. By the time dinner rolled around, I wasn't even excited to eat because I didn't have anything planned. The highlight was definitely that pizza…
Monday: Pesto Mac n' Cheese Pizza. Annie's sent me a box of goodies in exchange for a sponsored recipe post. This pizza was the recipe I came up with. It was pretty tasty. I love a super thin crust pizza and this was so thin I had to eat it with a fork and knife. Perfect.
Tuesday: My sisters came over for a girls night and we ate the pizza leftovers. Then we went out for froyo. Such a switch up from a typically unexciting Tuesday night.
Wednesday: Torchy's Tacos date with a friend! I got my usual…The Democrat & Brushfire. I'm a total spicy food lightweight and The Brushfire taco is too spicy for me, but I still really love it.
Thursday: I really (REALLY) wanted Chipotle, but the Chipotle by me gets kinda sketchy at night so I settled for nachos. They were unsatisfying and not what I wanted and I thought about how bad I wanted a Chipotle chicken burrito bowl with every bite lol
Friday: After a 4+ hour drive to Dallas for Andrew's cousin's baby shower, we met at Andrew's aunt's house and had dinner. The main dish was this chicken casserole that had squash, mushrooms and smoked gouda. It was great. The side was a tomato-orange-avocado salad, which was equally delicious. I had seconds of both.
Saturday: Dinner at Andrew's aunt's house again. We ate lunch out at Black Walnut Cafe, so a dinner in was good. We stopped by the grocery store (Market Street) and picked up a bunch of prepared dinner things: chicken, salmon, grilled asparagus, potato cakes, grilled balsamic zucchini/red onions/red bell peppers. Then Andrew's aunt made a big salad. I had a little of everything.
Sunday: I stayed at my parents house. They were getting back into town from their own busy weekend, so I just made a grilled cheese on sourdough + tomato soup.
shredded chicken + arugula + roasted sweet potatoes after hot yoga. I try to drive home after hot yoga and then eat lunch once I get there, but I'm so hungry after that I just started bringing lunch and eating immediately after.
breakfast tacos with arugula + cheddar. peach on the side.
strawberry salad + chicken quesadilla.
salad with roasted sweet potatoes, swiss cheese, shredded chicken. I added some balsamic reduction for a dressing.
salad with strawberries, sardines, feta, pistachios and roasted sweet potatoes. I LOVED this salad! So many good toppings!
weekend lunch in Dallas at Black Walnut Cafe. Grilled chicken sandwich + sweet potato fries.
Breakfast parfaits in Dallas. It was a perfect light breakfast to start off a day of delicious eating.
Egg Breakfast Sandwich on a whole wheat english muffin. Served with berries & cherries.
Vanilla protein banana smoothie topped with Nature's Path maple cereal.
Anne's High Protein Flour-free Breakfast Pancake topped with almond butter and blueberries. It was my first time trying this pancake recipe and I really enjoyed it!
Cold banana chia seed oatmeal topped with blueberries & walnuts.
Cookies. Recipe coming Monday!
Oats soaked overnight in milk + peaches. I had this for a mid-morning snack.
Baby shower treats. Cute, little cake. Those shoes…soooo cute.
Deep dish apple pie from Emporium Pies.
So on Wednesday night I finished the ebook!!! It was after midnight, but I still celebrated with a piece of leftover birthday cake from the freezer and a cold glass of chocolate milk.
Then I packaged up some ebooks to ship out to my favorite bloggers/instagrammers.
And that was my week! Thanks for hosting the What I Ate linkup, Jenn!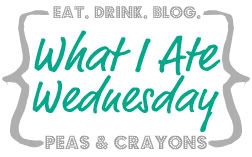 You May Also Like...