Jul 16
What I Ate This Week.
posted by
Kylie Mitchell
in
Cookies
\\
So last week I made a million meatballs. I'm so tired of meatballs. I didn't realize the recipe was going to make that many. Other food things have involved a lot of ebook work, which it another way of saying a lot of cookie tasting has been going down. No complaints here.
Monday: Meatballs using Giada's Recipe (I used a mix of bison + turkey for ours) + whole wheat potato gnocchi.
Tuesday: Thai Chicken Enchiladas via How Sweet Eats. Gosh I love these enchiladas. I used whole wheat tortillas and they don't have any cheese so they're not super heavy. Perfect for summer.
Wednesday: Leftover meatballs + kale chips + greek yogurt parmesan mashed potatoes
Thursday: Nachos + Salad. Andrew wasn't hungry so I channeled my single living days and made a random dinner.
Friday: Fluffy Focaccia + Baked Salmon
Saturday: Torchy's Tacos! Andrew had to work Saturday morning and then I had a bridal shower to attend in the afternoon. So Andrew and I hit up Torchy's for an early dinner (it gets so packed!) and some time spent together.
Sunday: Out to BBQ. My little sister got back from a church camp in Colorado so Andrew and I met my parents and her for dinner.
leftover butternut squash + arugula + shredded chicken pasta from dinner last Sunday.
egg sandwiches on focaccia.
Omelet quesadilla.
Grease a small skillet. Scramble 1 egg + 1 egg white and pour into pan. Allow to cook until almost cooked through. Top with shredded asiago + parmesan cheese, spinach, tomatoes, kalamata olives, a little more cheese. Then place a whole wheat tortilla on the top and allow everything to melt together for a bit. Gently flip to the other side so the tortilla is on the bottom and cook another 2-3 minutes. Eat.
Leftover thai chicken enchilada + salad.
another omelet quesadilla.
chocolate protein shake served over oats soaked in milk overnight.
Banana + orange + milk smoothie + deep dish breakfast cookie (going in ebook).
Banana + chia seed oatmeal.
Banana + milk smoothie topped with Kashi's shredded wheat.
Cherries!
More cherries + greek yogurt & shredded wheat.
A lot of cookie finalizing/tasting for the ebook. yum.
Chocolate.
Vanilla.
In puppy things…this week I introduced Maggie to the joy of a warm comforter straight from the dryer. She loved it.
Once again, thanks Jenn for the opportunity to link-up to so much delicious food.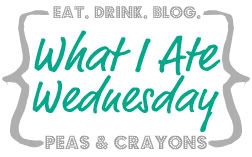 You May Also Like...